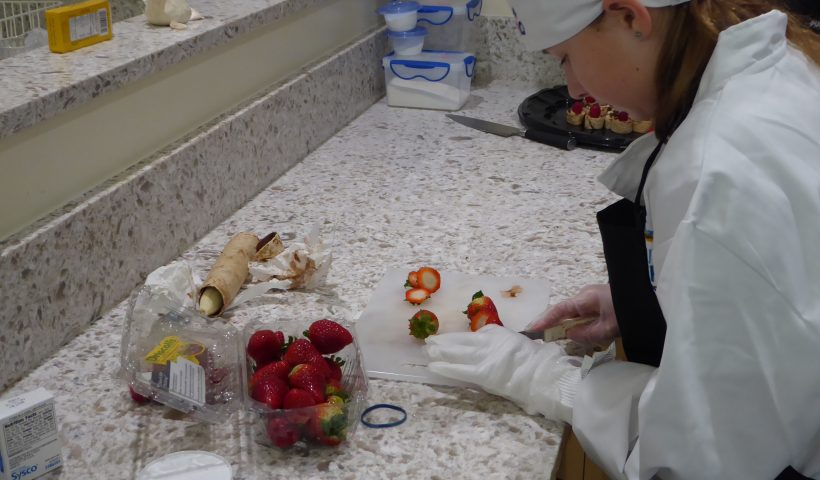 More than 100 elementary school kids submitted recipes in the annual Sodexo Food Service Future Chef competition. Eight finalists were chosen. The winner of the competition was Nora Brandon of North Albany Elementary School. She called her creation "Fruit Sushi Frushi."
Sodexo provided all the raw food ingredients as well as the kitchen stations and cooking utensils. Each child was accompanied by a food service employee who ensured that cutting was done safely, the proper sanitary measures were maintained and, if applicable, foods were cooked to the proper temperatures.
The following students were among the finalists.
Alyson Thompson of North Albany Elementary was one of the eight finalists in the Sodexo Food Service Future Chef competition. Her creation was entitled "Greek Turkey Sliders." The orange glove on her left hand in photo three is a cutting safety glove.
Timber Ridge School's Miranda Scovil's creation was entitled "Breakfast Cookies."
Niccole McGinnis of Oak Elementary school prepared "Granola Oate Bars."
Lafayette Elementary student McKenna Smith prepared "HMM Healthy McKenna Muffins."
North Albany Elementary student Reagan Williams made "Sun Butter Truffles."
Central Elementary School student Grace Foultner's creation was entitled "Pizza Pasta."
Periwinkle Elementary student Brienna Tierce made "Stuffed Peppers."