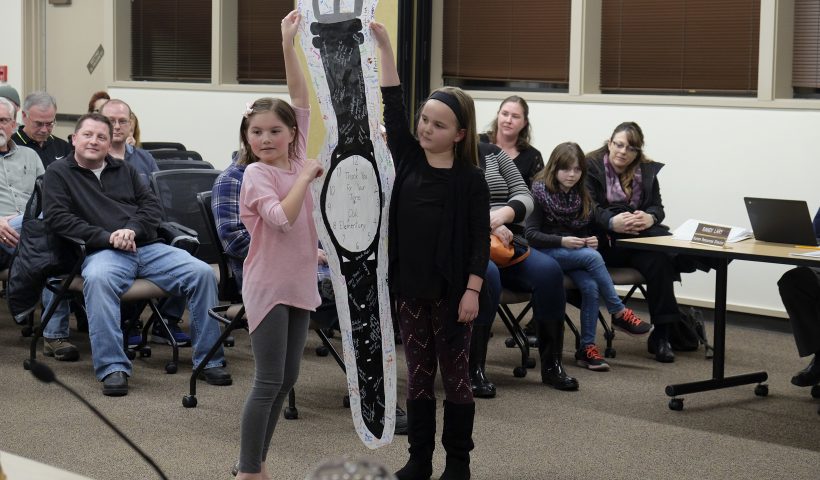 This month is School Board Appreciation Month. We honor the volunteers in our community who have dedicated countless hours of services to Greater Albany Schools. Our elected School Board members are dedicated to improving education for all students.
Thank you, Jerry Boehme, Frank Bricker, Sandi Gordon, Micah Smith and Lyle Utt.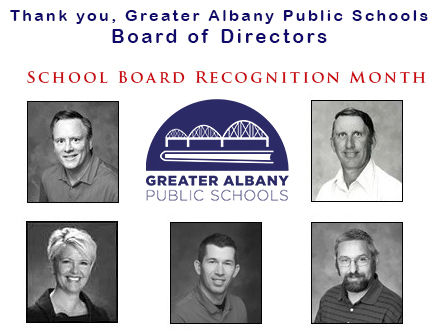 At the School Board meeting on Jan. 23, students from schools around the district publicly thanked the Board for their service. Recognition activities included:
Fir Grove and Oak Grove Elementary Schools: Oak Grove Mustang backpacks and Oak Grove water bottles filled with Hershey kisses.
Lafayette Elementary School: Directors received a color photo of the students. Children wore color coded t-shirts to indicate their grade level.
North Albany Elementary: Students made a glitter poster, thank you note and gift card for each Director.
Oak Elementary School: Students created a poster depicting a very large wrist watch thanking Board Members for their time. It was signed by the kids and staff.
Periwinkle Elementary: Principal Bob Daugherty, a fifth-grade teacher and fifth-grade students delivered an electronic presentation thanking the Board for building the modular classrooms at Periwinkle School.
Timber Ridge School: Third graders made a poster for each Director. Art teacher Elizabeth Mann sewed carry bags from art canvas and the eighth graders added the design. There are also Thank You messages inside each bag.
West Albany High School: Dinner before the Board meeting was provided by the culinary arts class of West Albany High School.
Sodexo Food Service: Cookies were provided by Sodexo Food Service.